Heav'nly Donuts specializes in coffee, iced and frozen beverages, baked goods, and a wide variety of breakfast and lunch sandwiches and snacks. Our Menu is always evolving to meet our customer's requests, and tastes. Stop into any location to try our hand-cut donuts, or one of our 15 varieties of coffee, all freshly brewed daily with no added syrup to enhance the flavor. We make it to order, so you can have it just the way you like it.
---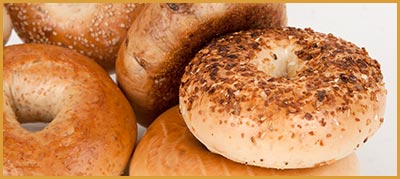 Bagels & Croissants
Everyone loves a fresh baked bagel or croissant in the morning. Whether you enjoy your bagel or croissant regular or toasted; with butter or cream cheese; or substituted for the bun in a sandwich, Heav'nly Donuts can make it the way you want. Choose from a large variety of delicious flavors of bagels and croissants including plain, sesame, onion, and much more.
---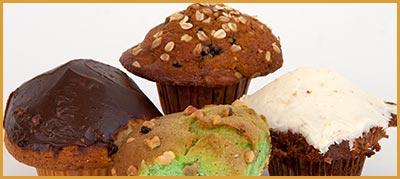 Muffins
Compliment your coffee with a fresh baked muffin from Heav'nly Donuts. Both regular and low fat muffins are available. Choose from a large selection of delicious flavors, including blueberry, chocolate chip, coffee cake, corn, bran, and much more.
---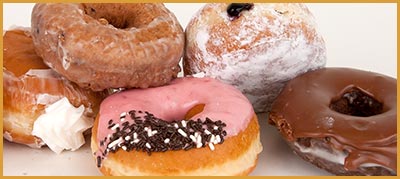 Donuts & Donut Holes
Our donuts have been bringing smiles and satisfying customers for since 1975. Our donuts are made the old-fashioned way; with no processed ingredients, cut by hand, and made fresh daily. Treat yourself to one of our 35 varieties of donuts, or share your glazed donut joy with a dozen donuts.
---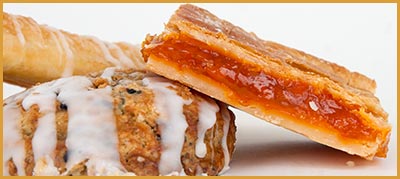 Pastries, Squares, & Turnovers
For a special treat, Heav'nly Donuts' pastries and other baked goods provide delicious options at snack time. We have a wide variety to choose from, including danishes, turnovers, cookies, squares, and so much more.
---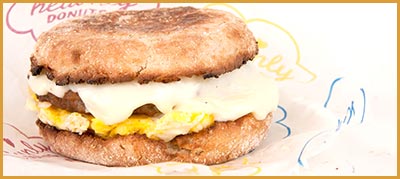 Sandwiches
Heav'nly Donuts' Sandwiches are the perfect way to start your day. Choose from fresh baked croissants, bagels, or English muffins, with bacon, sausage, ham, egg and cheese. Get moving in the morning with a delicious breakfast sandwich the way you want it.
---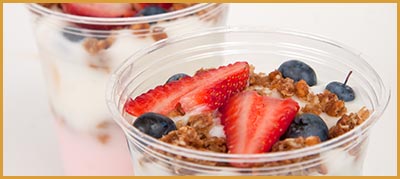 Gourmet Snacks
Heav'nly Donuts offers a delicious selection of gourmet snacks, including fresh made Fruit and Yogurt Cups, Cinnamon Sticks, and Elephant Ears. Try one of our tasty treats today.
---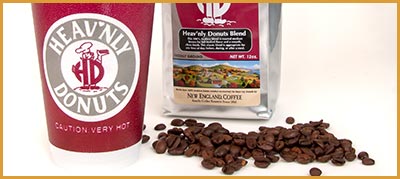 Coffee & Tea
Our coffee and tea beverages are made fresh daily. Our original coffee flavors are brewed at each shop with no flavor shots for enhancement. We make each cup just the way you like it. Visit any Heav'nly Donuts and try a fresh brewed iced or hot coffee, or get a Box of Joe for the whole family to enjoy.
---
Heav'nly Freeze
Our specialty-frozen drinks are a perfect way to cool down anytime. Try one of our Heav'nly Freeze flavors and find your favorite today.
---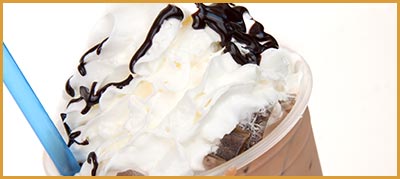 Other Beverages
Heav'nly Donuts offers a wide variety of hot and cold beverages, including Specialty Iced and Hot Coffee, Hot Chocolate, Iced Cappuccino, Soft Drinks, Juices, Milk and Water.
---